In a collaboration between myFINBEC and Chateau Belcastel, we present a new exhibition called "LEGEND". This is the story of how seven artists are retelling and revitalizing the rich history of this medieval war castle through their art. These artists were selected for their visual storytelling abilities, and the concept behind this exhibition is for the artists to select characters and scenes from the many legends that surround this chateau, and create their artworks based on their own interpretation of these stories. The artists will create large scale murals on the castle walls, as well as a series of lithograph art prints and original works of art for a gallery exhibition inside the chateau.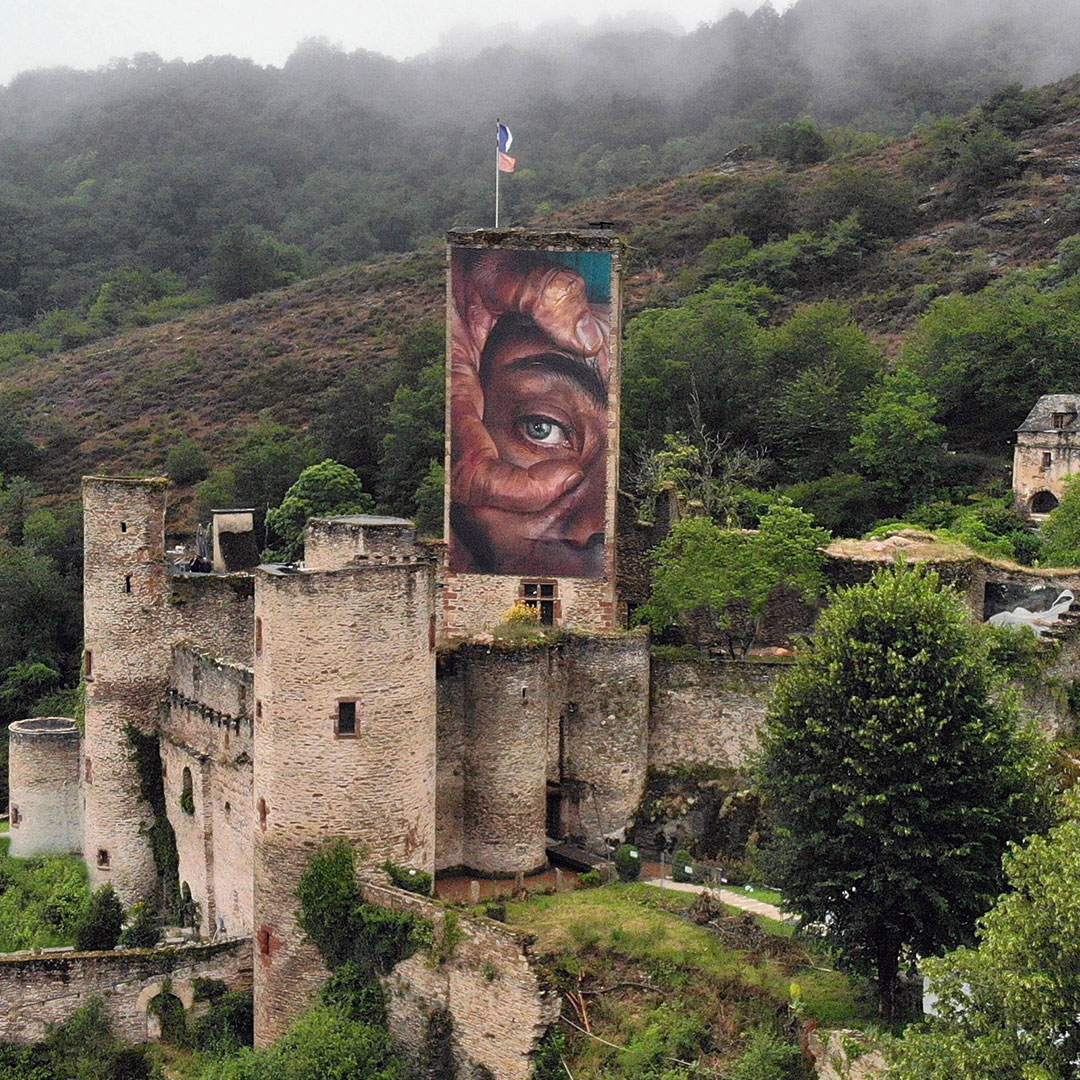 CASE MACLAIM

GERMANY
As one of the founders of "Maclaim crew", the German art collective that pioneered photo-realistic street art, Case Maclaim has traveled the world for the past two decades painting massive murals. What is unique about his approach and what made him very interesting as a part of this exhibition, is the way he communicates emotions and constructs his narrative via hands and gestures. His compositions have incredible power and expression, and his use photo-realism showcases his mastery of this style. Case will be telling the story of the legend of Merigot Marchès and his notorious gang of "Routiers", via a series of original paintings, art prints and a mural on the castle walls.
INTI

CHILE
Chilean urban artist Inti takes his name from the Incan sun god and the Quechua word for 'the Sun'. Since he was 15 years old he has been painting on city streets around the world. His brightly colored murals often blend different religious and cultural symbols with his unique way of portraying characters, this is the essence of his style. The mythical aspect of his work makes his involvement in this project paramount. Inti creates a modern portrait of the religious icon Mary Magdalene and the legend of her traveling by boat to South of France. At Chateau de Belcastel there is a 1000 year old portrait of Mary Magdalene in a tiny chapel, and this makes his mural on the castle all the more incredible.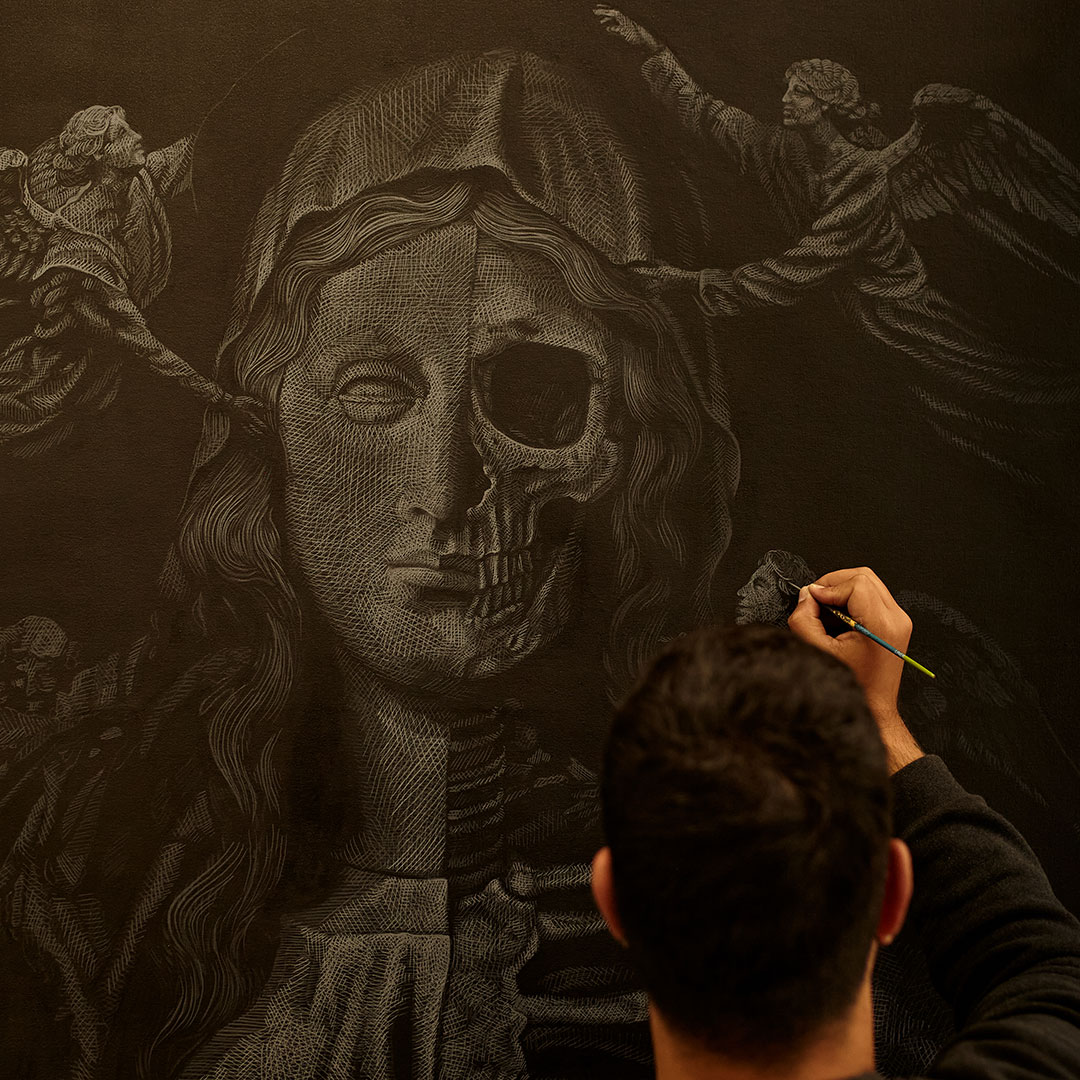 ALEXIS DIAZ

PUERTO RICO
Using a small brush and a lot of patience, Alexis Diaz creates his surreal murals freehand, line-by-line. Growing up in Puerto Rico, he was fascinated with street art and started painting murals in 2010, but decided to use other techniques to create his art rather than using spray paint. He became known for creating chimerical and dreamlike depictions of animals in a state of metamorphosis. His murals are characterized by a very detailed technique and line-by-line precision that look more like detailed drawings. Alexis has this mythical quality to his art that combines different unrelated parts together in such a way that they tell a story and create harmony. Alexis Diaz and Inti will collaborate on their mural at the chateau, a highly anticipated event.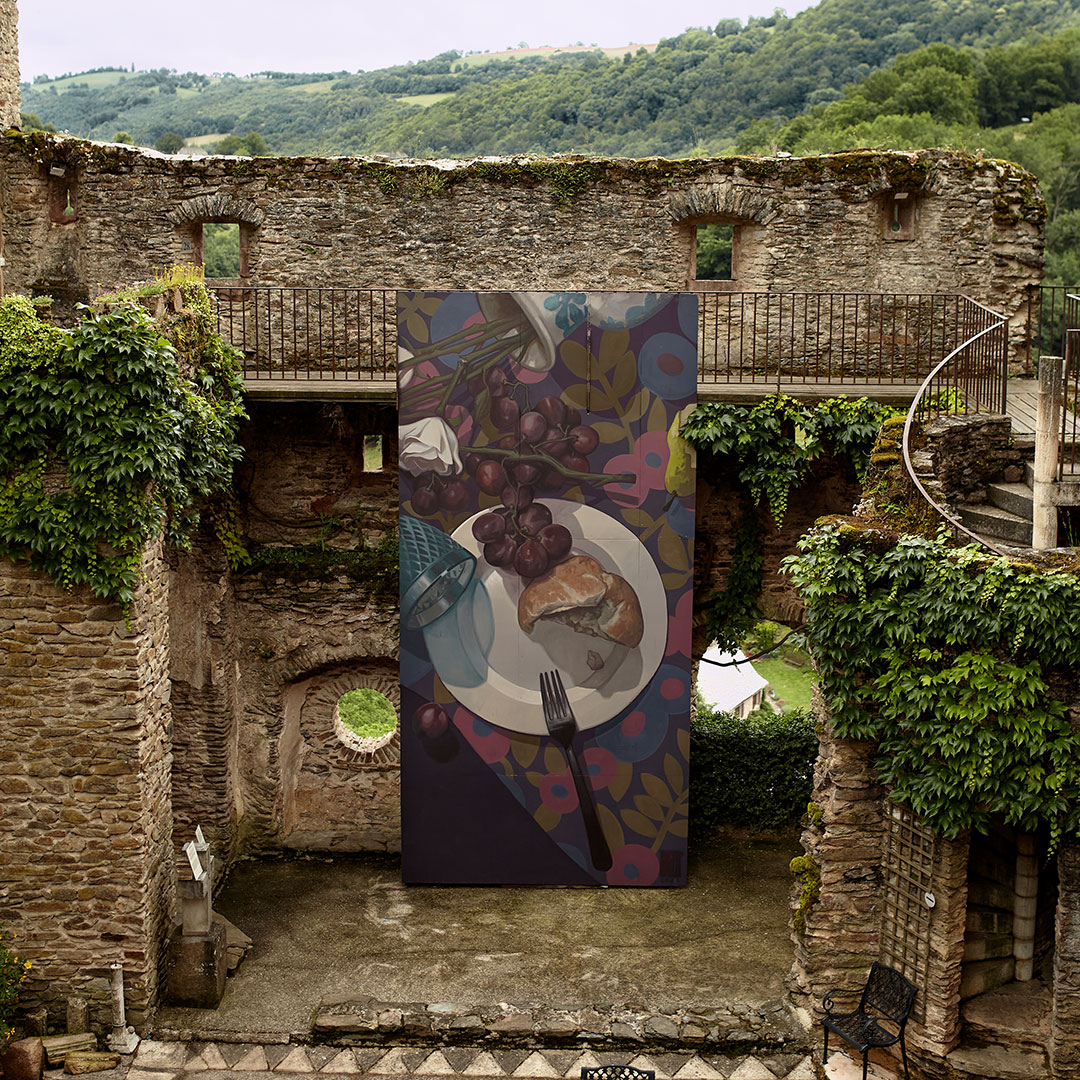 BEZT - ETAM CRU

POLAND
Born and raised in a small town in Poland, Bezt's art has become known around the world for his massive fresco style murals that are highly illustrative. His work has a strong narrative quality, where his murals seem to be a storyboard from a scene in a movie. He is best known as a part of the street art duo "Etam Cru", and together with fellow Polish artist Sainer.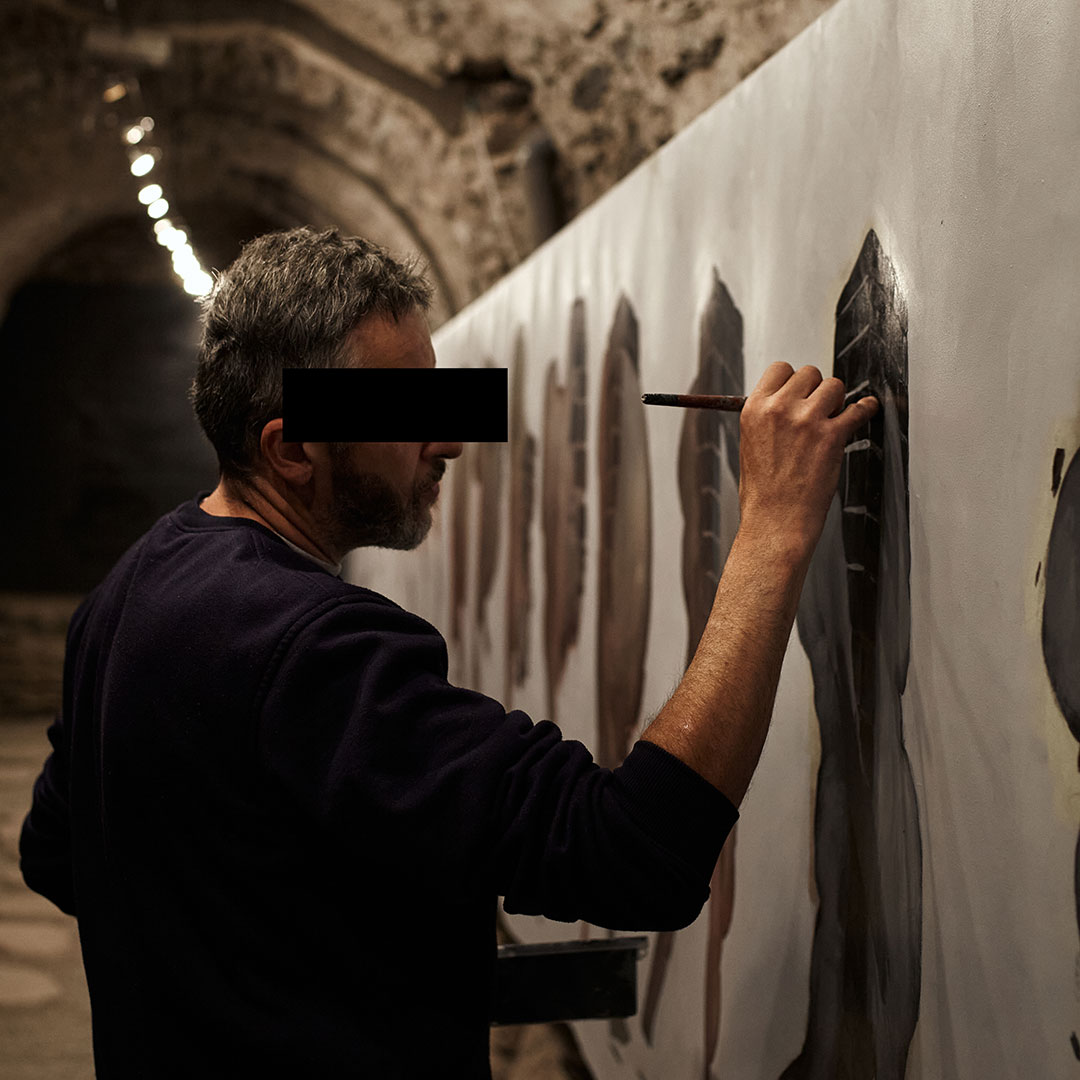 BOM.K

FRANCE
French artist Bom.K has his roots in graffiti culture, but his work today is a far departure from the tags and throw ups that got him his start on his artistic journey. Bom.K's art is highly detailed and expressive, sometimes bordering on the disturbing, he uses his macabre imagery to achieve a very powerful and evocative narrative. What his painting style brings to this exhibition is to cover some of the emotions that would be considered on the fringe, emotions like anguish, where there is a fine line where there is an intense beauty in these emotions. His art invokes our fascination with what frightens us most, what lies in the unknown, in the dark corners of our mind.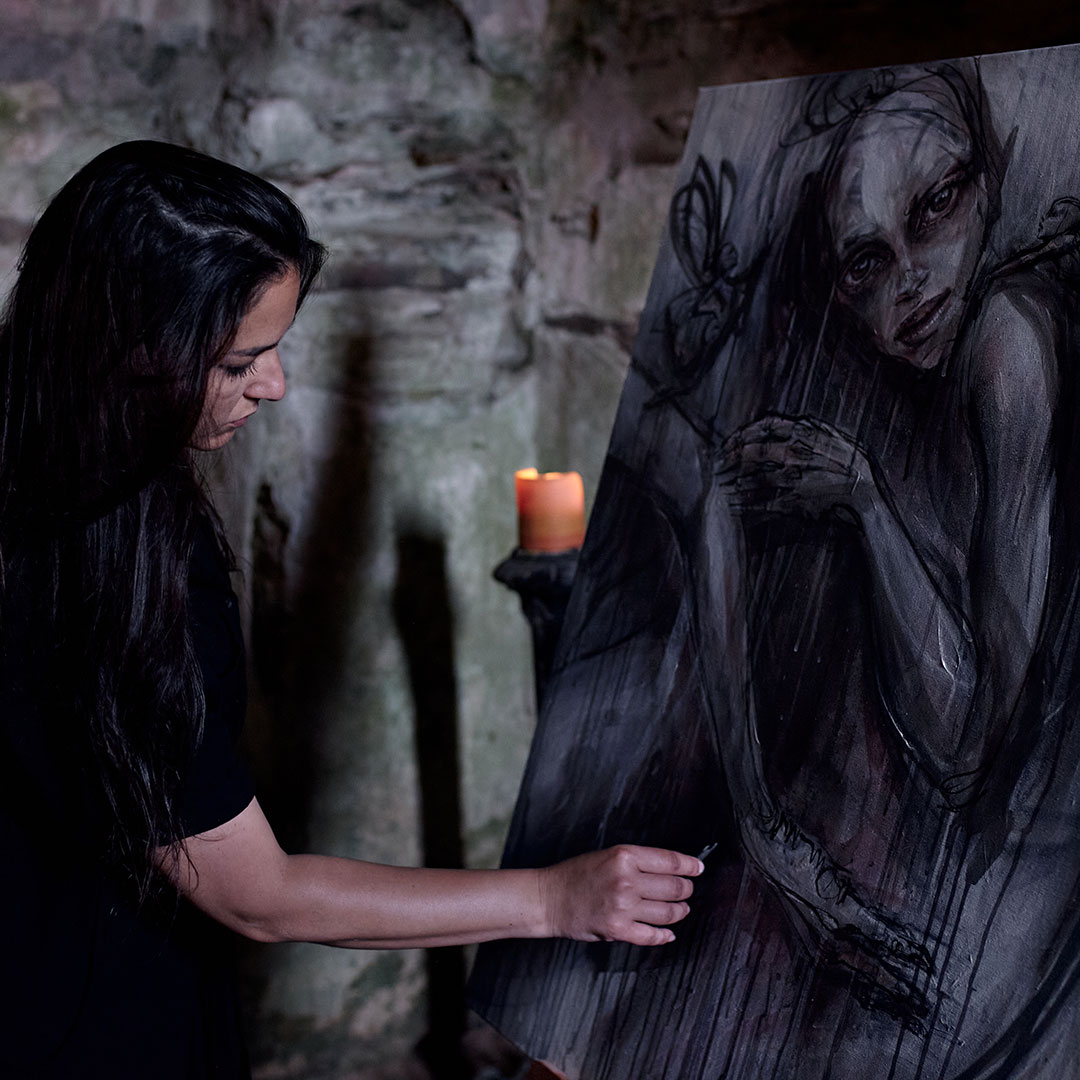 HERA - HERAKUT

GERMANY
Hera of the German art duo Herakut uses her powerful visual storytelling abilities to create impactful murals on cityscapes around the world. Classically trained in art, and then moving into graffiti writing as a teenager, Hera quickly became internationally renowned at a very young age for her unique style blending character art with her own style of letter writing. Jasmin brings an incredible narrative style to the Legend exhibition, not only through her mural painting on the castle exterior and art inside the gallery show, but she designed costumes for two dancers that will perform while she paints and add yet another layer of storytelling to this show. Her art can best be described as magic, and has a powerful effect on those that see her work.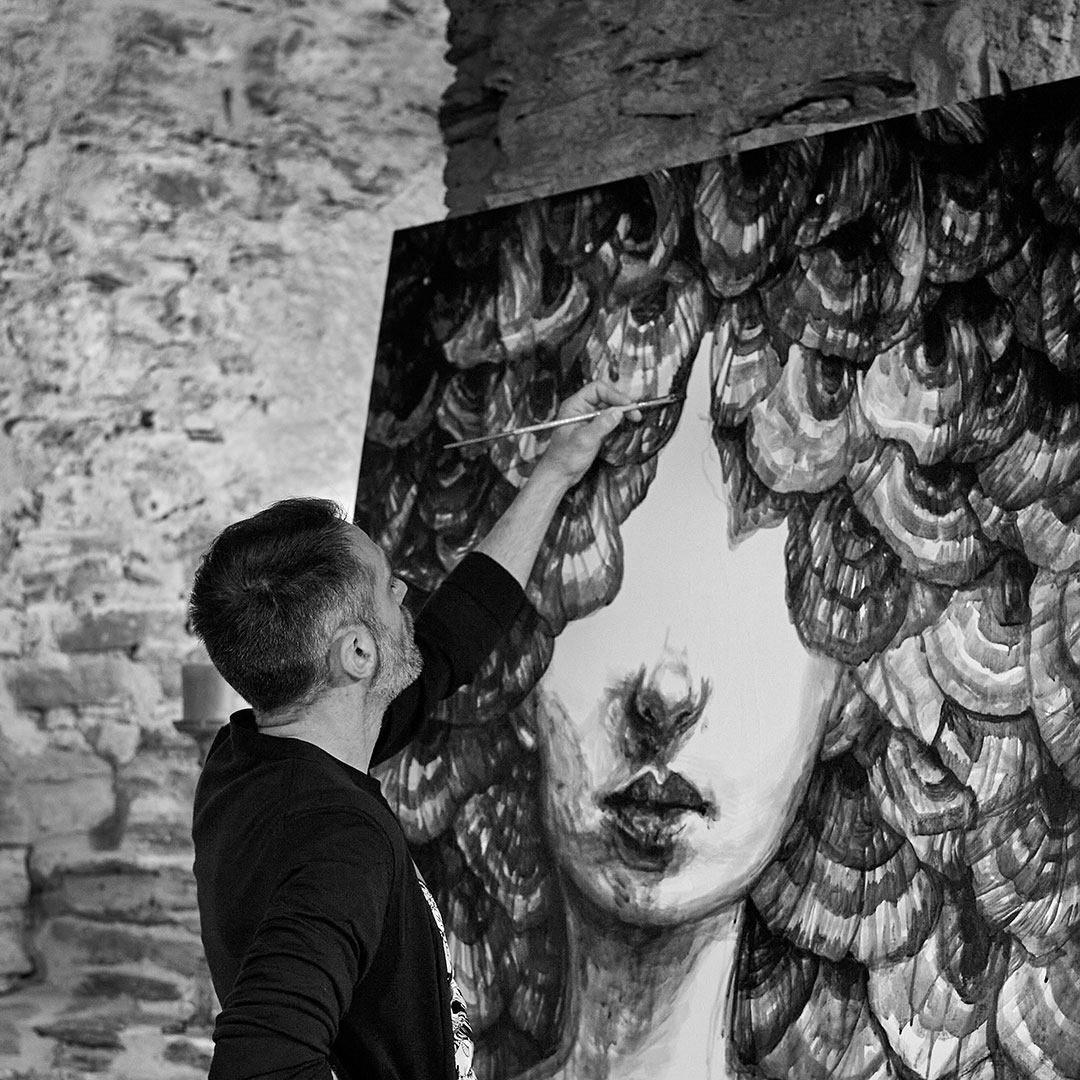 MARCO MAZZONI

ITALY
Italian illustrator Marco Mazzoni uses coloured pencils to create his incredibly intricate and surreal artworks. Although not a muralist like the other artists in this lineup, Marco is an "artist's artist" and his art is sought after by street art collectors as well as contemporary art collectors. Marco brings an essential element to this exhibition, his delicate style and the fairytale like quality of his work is a reference to the Baroque era especially with his use of a chiaroscuro feel in his art. What is new and really exciting is that Marco will also be creating a mural for this exhibition in the open courtyard of the chateau.
legend exhibition from:
JUNE 24 - NOVEMBER 1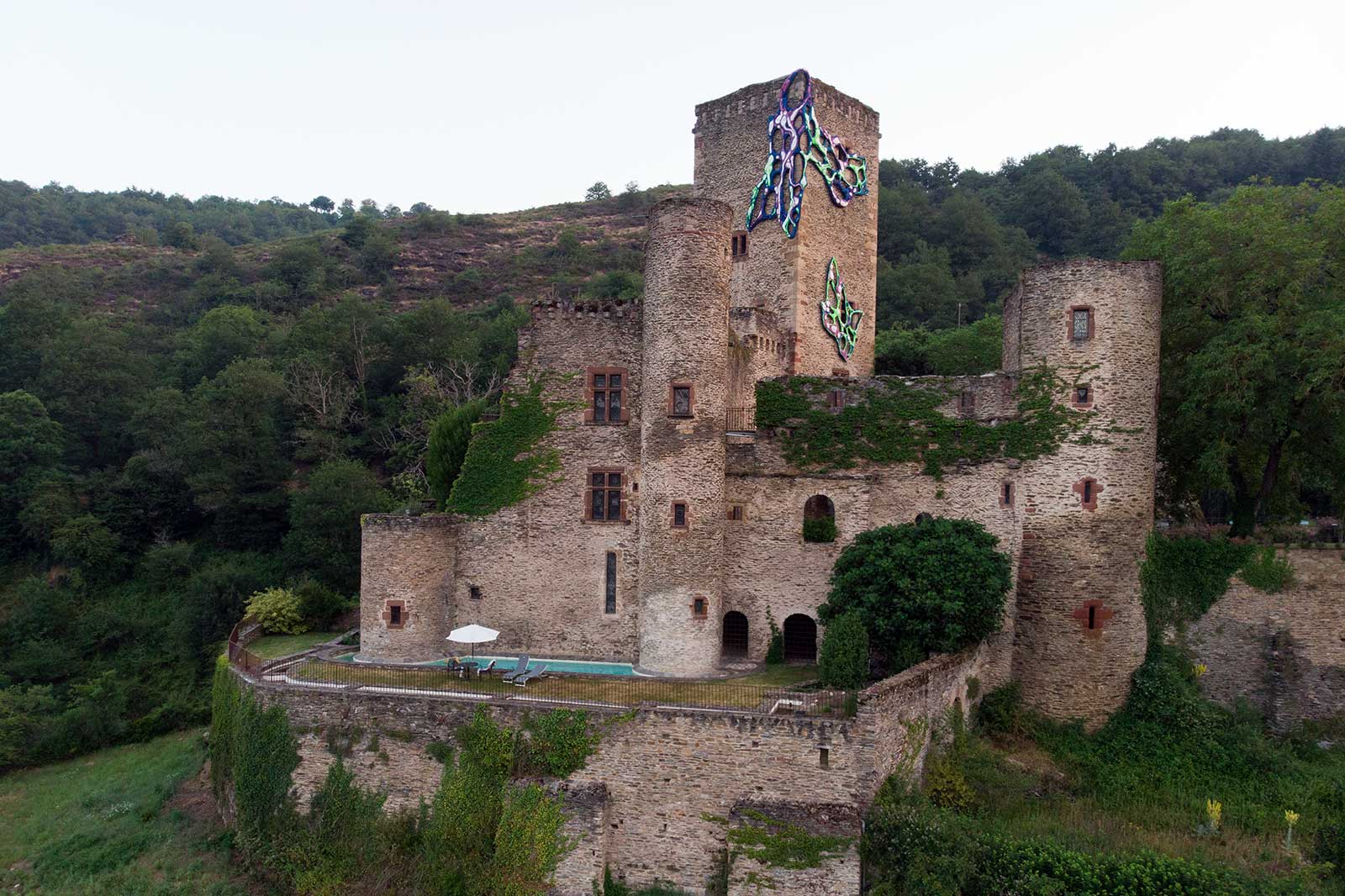 CHATEAU DE BELCASTEL
This medieval war castle in the French countryside started out as a simple chapel in the 9th century. Over the past 1000 years Chateau de Belcastel became a military fortress that developed a colorful history involving murders, a love tryst that ends in tragedy, the supernatural and other wild tales. These legends are the source of inspiration for the artists to create their artworks for this exhibition. Today Chateau de Belcastel has been transformed into a place where art and history blend into an experience of fascination, beauty and luxury. The chateau is located in a picturesque village where you feel like you are stepping back in time while strolling along the river and amongst the old stone houses.
To come and visit the Chateau de Belcastel and see this exhibition, find more information on how to arrive in Belcastel and book accommodations on the chateau website here.